I know it is not even remotely February anymore (it's June ….) but I still wanted to share those pretty cookies I made for Valentine's Day. Unfortunately, Valentine's Day is not very big in Germany – at least not as big as in the US – but this didn't keep me from preparing some delicious Valentine's Day cutout-cookies for my beloved boyfriend. And there might have been some advantages for me in that, too ….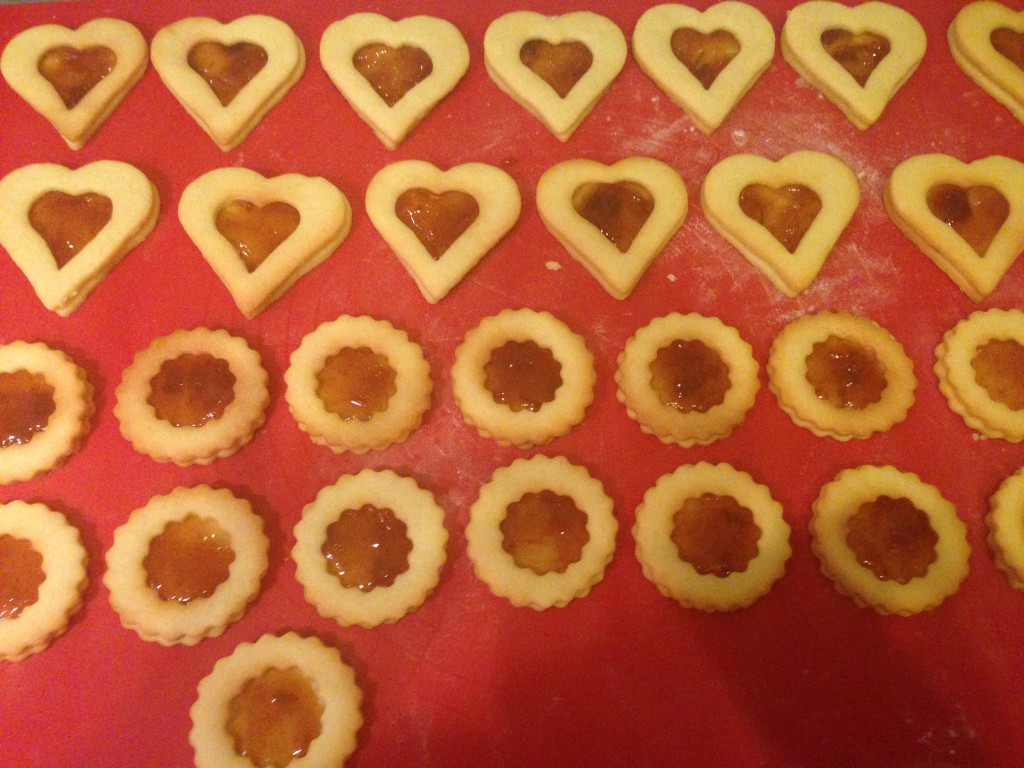 Valentines Cookies
2014-06-29 14:27:36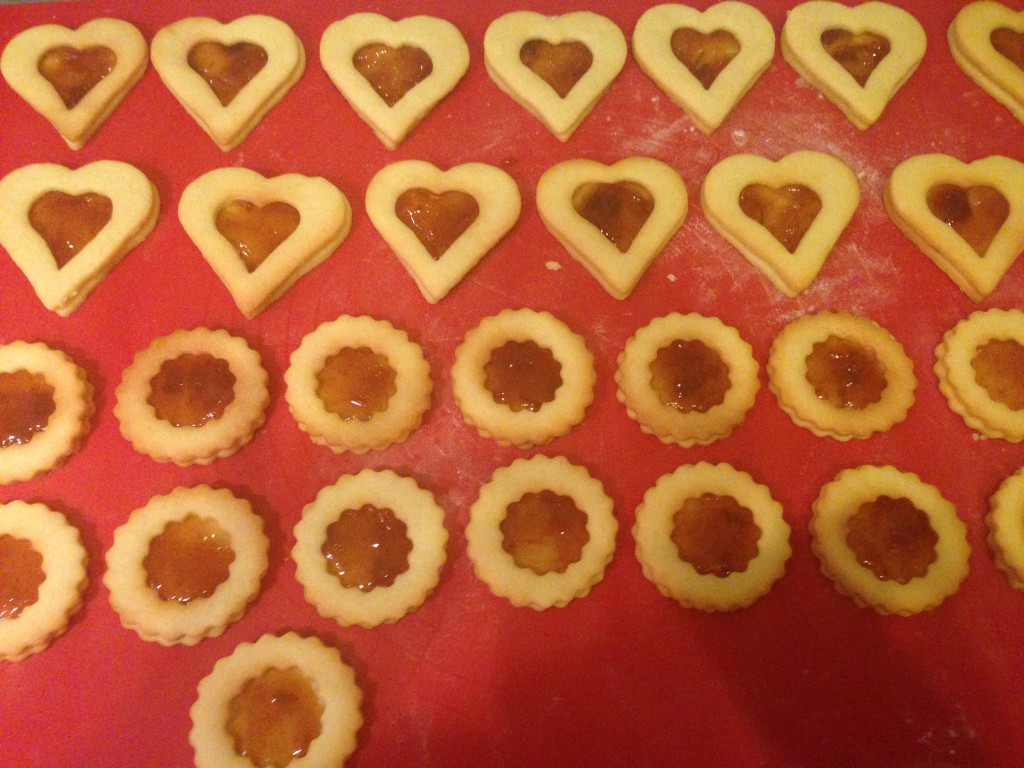 Ingredients
3 cups all-purpose flour
1 teaspoon baking powder
1 cup (2 sticks) unsalted butter, room temperature
1 cup sugar
1 large egg
1 teaspoon good quality lemon oil (the original recipe uses vanilla extract)
1 glass good quality jam (e.g. strawberry or raspberry)
Notes
Large mixing bowl
(Hand)mixer
Measuring cups or kitchen scale
Parchment paper
Cutters of your choice, preferably one large and one small cutter of the same shape
Oven pre-heated to 350°F (180°C)
Adapted from recipe based on the fabulous rolled sugar cookie recipe by Glorious Treats:
quartertopie http://quartertopie.com/
INSTRUCTIONS
Step 1: Cream together butter and sugar, using the paddle attachment of your mixer. The butter should become fluffy and light, this takes around 4 min.
Step 2: While the butter and sugar are creaming, mix flour and baking powder in a separate bowl.
Step 3: Add the egg and lemon oil to the butter mixture and mix to combine.
Step 4: Slowly add the flour mixture to the butter mixture and mix to combine. Make sure to only add a little flour at a time or you will have the flour all over your kitchen.
Step 5: Mix to combine, until the dough pulls away from the bowl. Add a tiny splash of milk if the dough becomes too dry. Take the bowl out of the mixture and knead it a few times, using your hands.
Step 6: Separate dough in two pieces and press flat. Put the discs in a food-save plastic bag (e.g. Ziploc bag) and pop it in the fridge for at least two hours. I prefer to leave it there over night, but that's up to you.
Step 7: Take one disc out of the fridge, let warm up a few minutes and roll to the desired thickness (I prefer my cookies super thin, but it is up to you!). If the dough sticks, sprinkle a very small amount of flour over it! Cut out the desired shapes and place them on the baking sheet. Repeat with the second disc or freeze it until further use.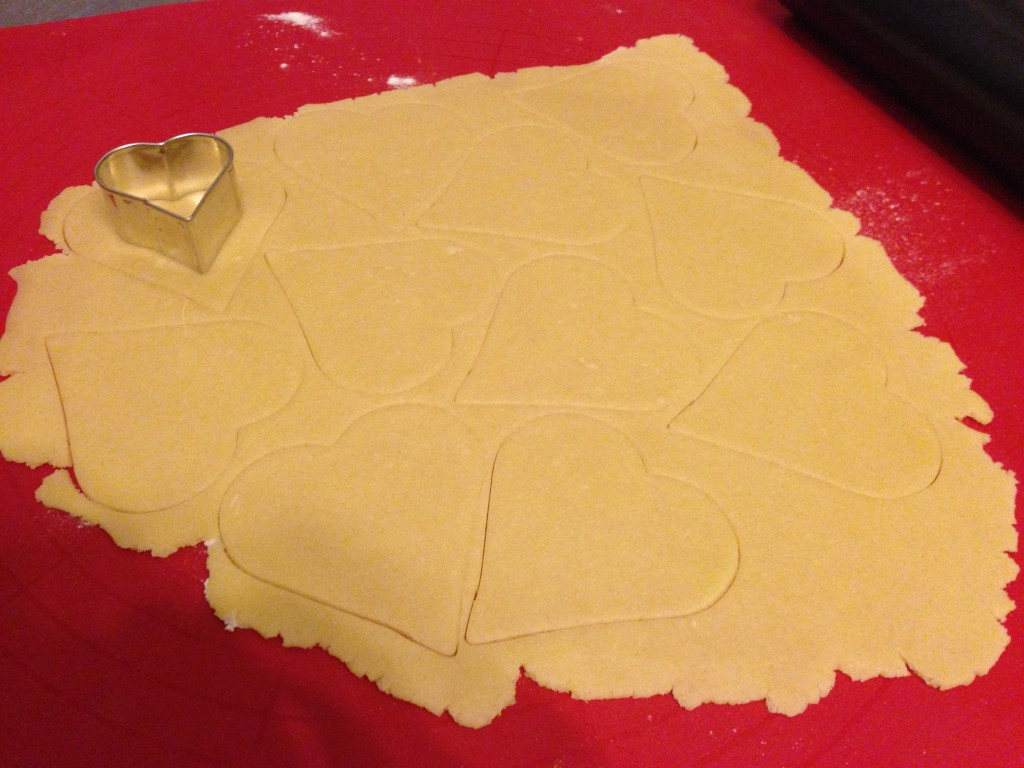 Step 8: As soon as the sheet is full of cookies, use your small cookie cutter to cut out shapes from half of the cookies. I found it easier to cut out the small hearts on the baking sheet, since the cookies will lose their shape when transferred to the baking sheet. You can either bake the little hearts along the large ones or put them back to your remaining dough and knead in.
Step 9: Bake cookies at 350°F for 8-10 min, make sure they do not turn brown!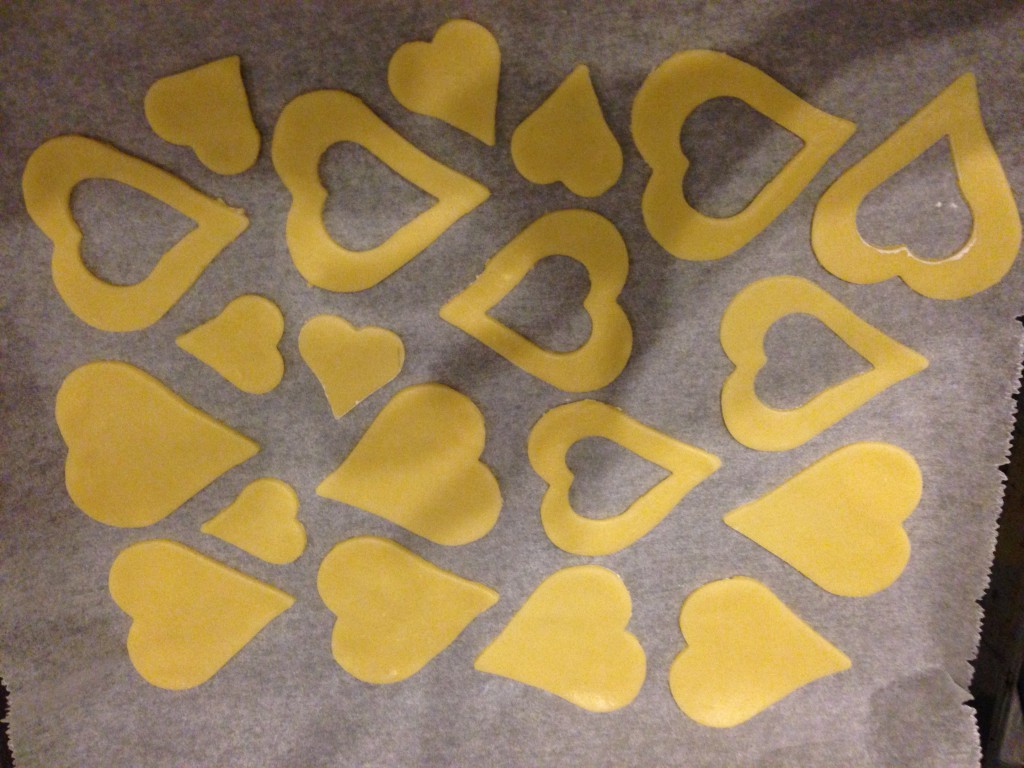 Step 10: Take cookies out of the oven, transfer to a wire rack and let cool completely. Once they are cooled, spread one teaspoon of jam (I used rhubarb infused with black tea. Divine!) on the cookies that do not have cutouts in them. Make sure to not spread the jam all the way to the edges!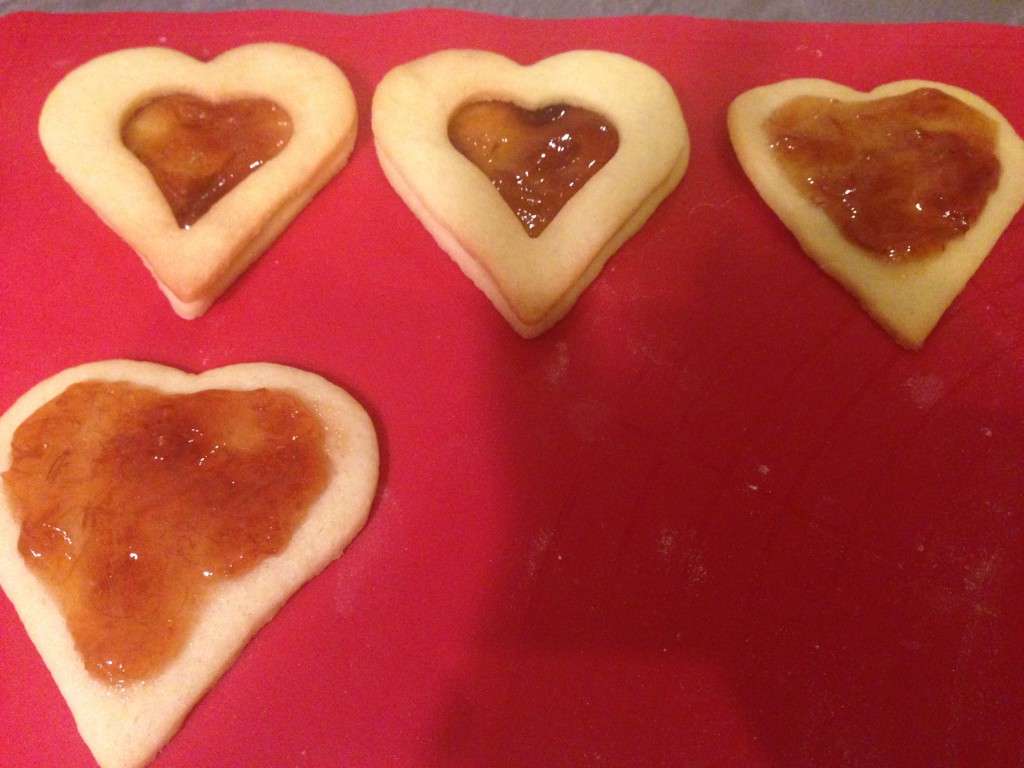 Step 11: Place one cutout-cookie on top of each cookie with jam on it. Press down carefully and let dry for one hour. Enjoy (or transfer left over cookies to your cookie jar)!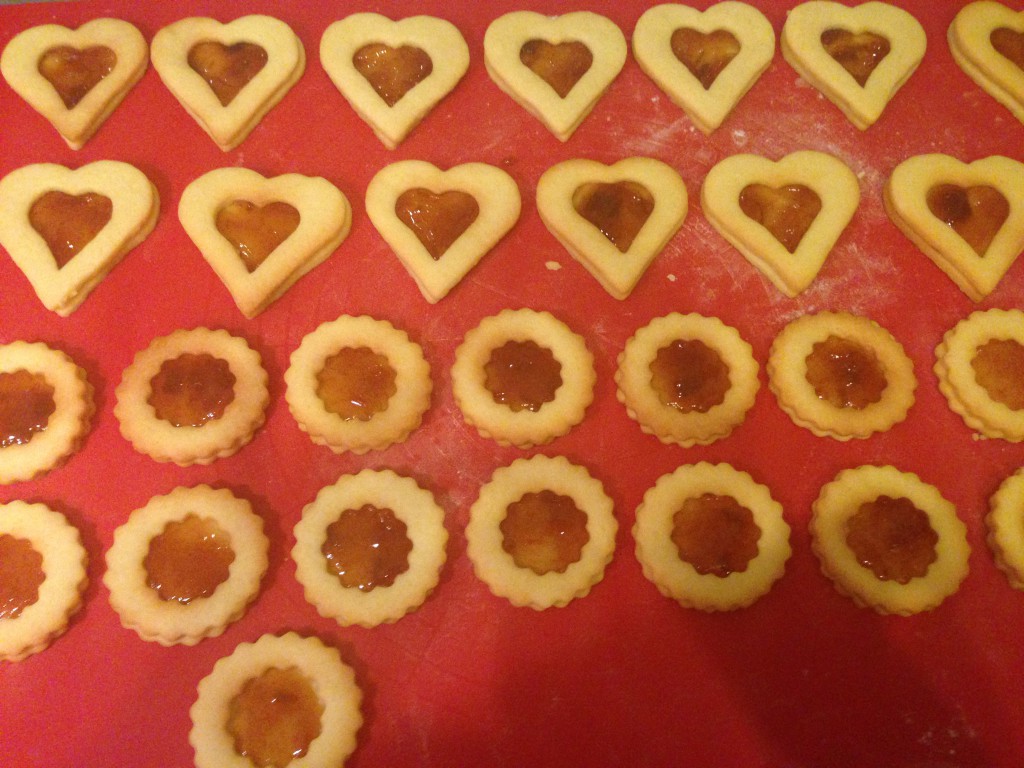 Summary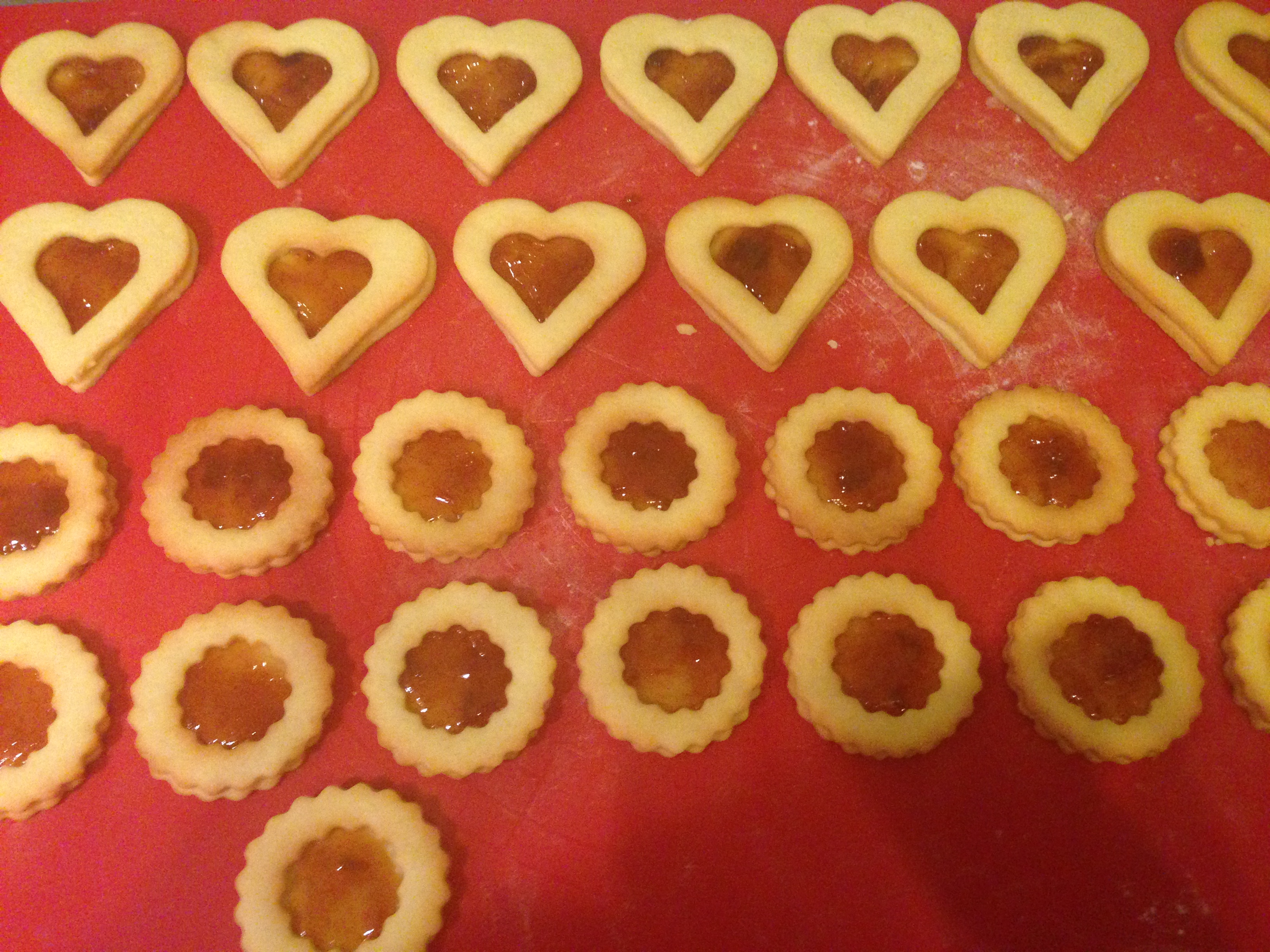 Recipe Name
Published On
Preparation Time
Cook Time
Total Time
Average Rating





Based on 0 Review(s)