A few weeks ago, I sent my boyfriend off to Hong Kong, where he had a work assignment. Fortunately a good friend of mine agreed to come over, so that I won't be all alone the first day. I figured I whip up a quick cake to take my mind off. The problem is, my friend is severely allergic to most fruit. I thought long and hard about which cake to make (for some reason I really wanted to have some fruit in it … silly me) and came up with individually prepared pineapple upside down cakes, minus the cherry, which she cannot have. So here is my recipe for those mini cakes, that I adapted to my taste (not as sweet as the original recipe). Enjoy!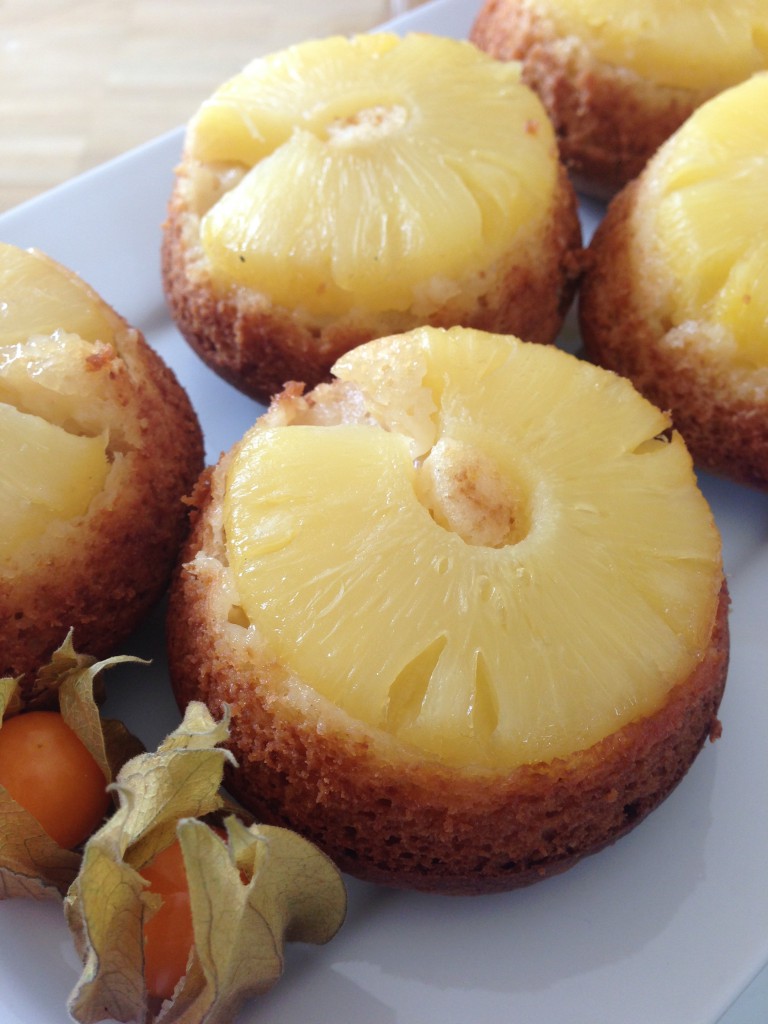 Mini pineapple upside-down cakes
2014-06-29 14:49:51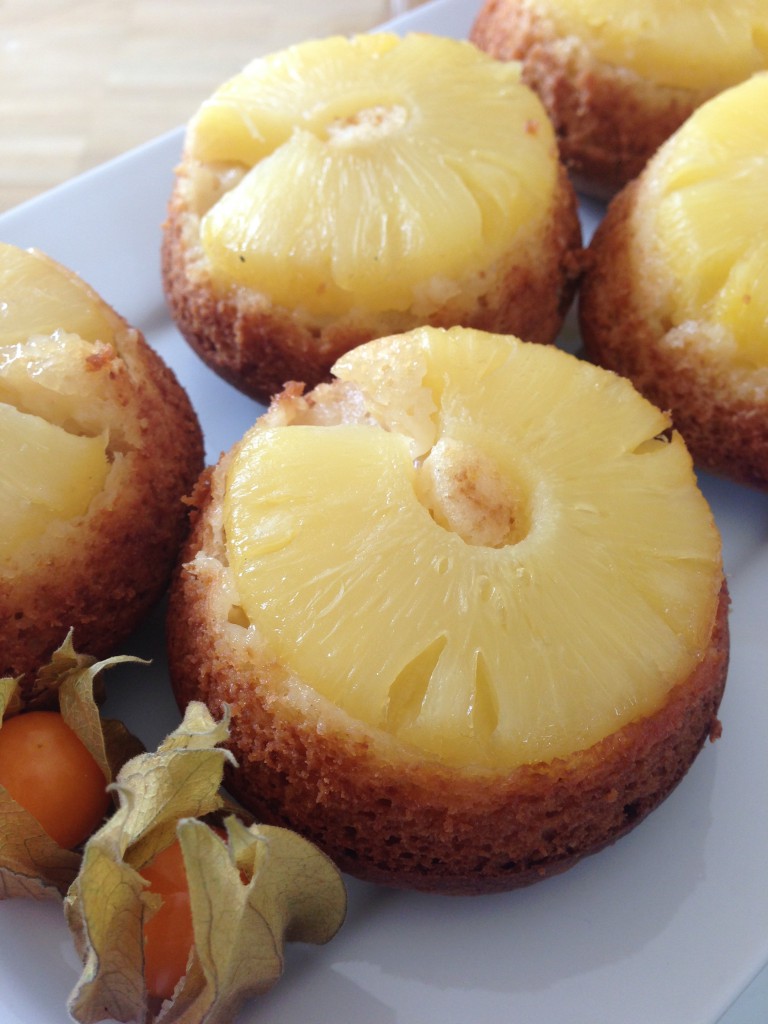 Ingredients
Sugar Glaze
2 Tbsp. butter
3 Tbsp. pineapple juice (use the one the pineapples are canned in)
2 Tbsp. brown sugar
Cake
6 (canned) pineapple slices and 6 maraschino cherries (optional)
1 1/4 cups flour
1 tsp. baking powder
1/2 tsp. baking soda
1/2 teaspoon salt
2 eggs
1 cups sugar
1/2 cup oil (preferably canola)
1 tsp. vanilla extract
1/2 cup sour cream (aka "Saure Sahne" in German)
Notes
Large mixing bowl
(Hand)mixer
Measuring cups or kitchen scale
Jumbo muffin tin
Oven pre-heated to 350°F (180°C)
Adapted from recipe based on the fabulous pineapple upside down-cake recipe by Glorious Treats

quartertopie http://quartertopie.com/

INSTRUCTIONS
Step 1: Dig out one jumbo muffin tin from your baking closet (mine is such a mess …) and prepare the pineapples by cutting out a notch so that they will fit nicely in the bottom of your muffin tin (this might need some experimenting).

Step 2: Prepare the sugar glaze by combining butter, sugar and pineapple juice in a small pan. Heat until butter and sugar are melted. Set aside to cool.

Step 3: Prepare the cake batter by mixing flour, baking powder, baking soda and salt in a bowl and set aside. In the bowl of an electric mixer, beat eggs and sugar until the mixture thickens and is a light color (this takes 2-3 minutes!). Add oil, vanilla and sour cream while mixing on low speed until combined.

Step 4: Slowly add the flour mixture until it all just comes together (do not overmix!).

Step 5: Assemble the cakes by pouring ½ tablespoon of the sugar glaze into the bottom of each muffin mold, top with one slice of pineapple each and one cherry. Scoop the cake batter on top of each pineapple slice, filling each mold 2/3 full.

Step 6: Bake cakes in a preheated oven for about 20 minutes, take out and allow to cool. Run a knife carefully along the edges of each cake to losen them from the pan. Cut of any "domes" that may have formed while baking so that the cakes will later on sit nicely on a plate. Place a large plate or cooling rack upside down on the muffin tin and flip the entire thing over in one quick movement.
Cakes can be served warm, or at room temperature with a dollop of whipped cream on the side.
Enjoy!